The American Legion Oratorical Contest exists to develop deeper knowledge and appreciation for the U.S. Constitution among high school students. Since 1938, the program has presented participants with an academic speaking challenge that teaches important leadership qualities, the history of our nation's laws, the ability to think and speak clearly, and an understanding of the duties, responsibilities, rights and privileges of American citizenship. The program has featured numerous politicians and prominent contestants over the years, including former president candidate Alan Keyes and CNN anchor Lou Dobbs.
Young orators earn some of the most generous college scholarships available to high school students. Over $138,000 in scholarships can be awarded each year. The overall national contest winner gets an $18,000 scholarship. Second place takes home $16,000, and third gets $14,000. Each department (state) winner who is certified into and participates in the national contest's first round receives a $1,500 scholarship. Those who advance past the first round receive an additional $1,500 scholarship. The American Legion's National Organization awards the scholarships, which can be used at any college or university in the United States.
High school students under age 20 are eligible. Competition begins at the post level and advances to a state competition. Legion department representatives certify one winner per state to the national contest, where department winners compete against each other in two speaking rounds. The contest caps off with a final round that decides the three top finishers.
Speaking subjects must be on some aspect of the U.S. Constitution, with some emphasis on the duties and obligations of citizens to our government. Speeches are eight to 10 minutes long; three- to five-minute speeches on an assigned topic also are part of the contest.
For online details visit:
https://txlegion.org/programs/oratorical/
---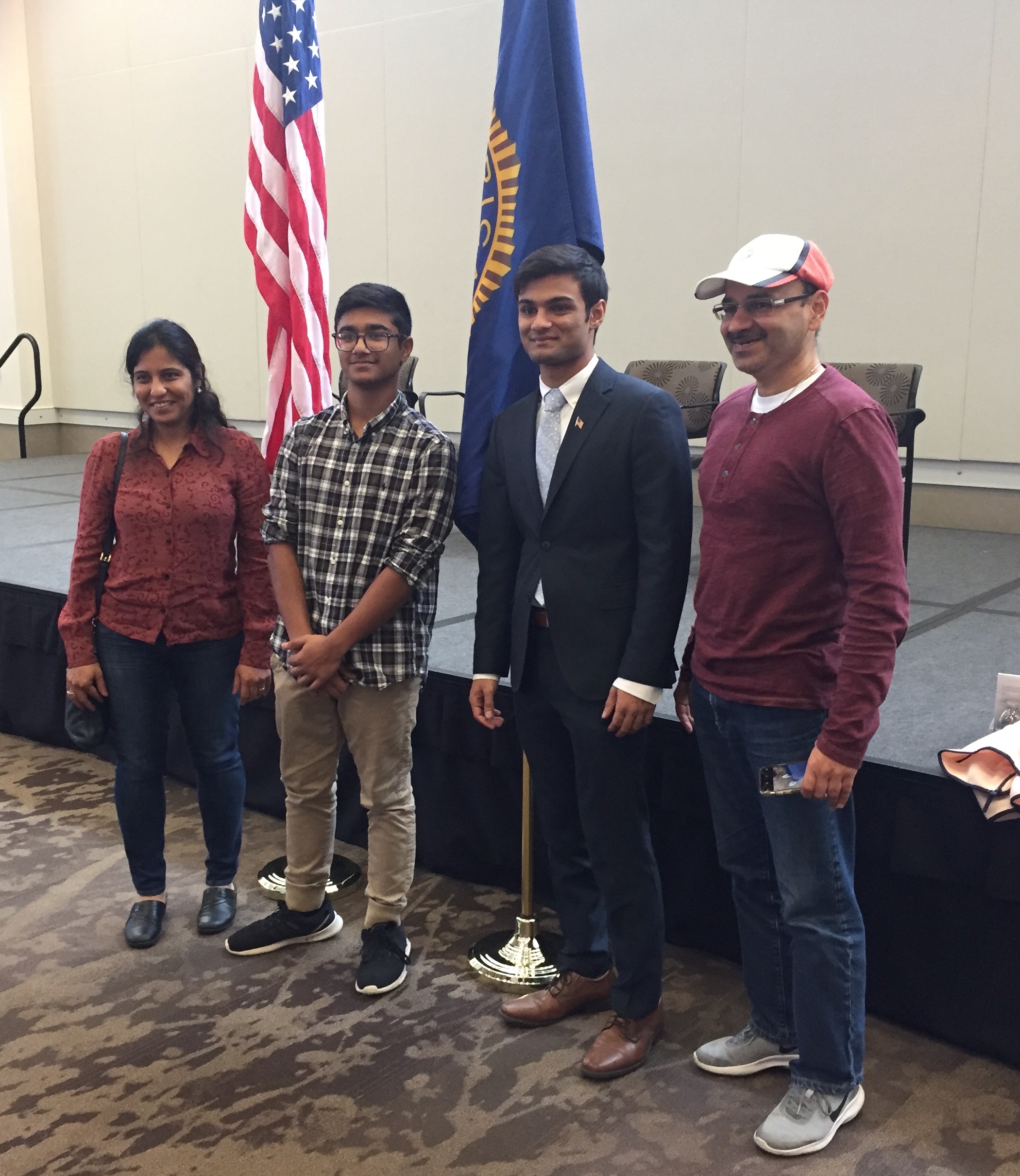 UPDATE: After winning second place in the statewide oratorical contest sponsored by The American Legion, Rehan Rupawalla (second from right) is joined by his mother Mubaraka, brother Daniel, and father Mohammed on Feb. 17 in Frisco. Rehan, a senior at Obra D. Tompkins High School in Katy, won a $1,500 college scholarship. (Photo by Greg Clock)
After winning the Post 164 oratorical competition, Rehan Rupawalla, a senior at Obra D. Tompkins High School went on to win the District 22 competition and the Division 2 competition. On February 17 2020 he will compete in the Department competition in Frisco Texas.
Seen here with 2nd Division Commander Bryan Douglas Coleman, 22nd District Commander Joseph Thomas, 22nd District Vice Commander Harry Woodstrom (chair of the Post 164 Oratorical Contest) and Post 164 Commander Jim McGuire.
---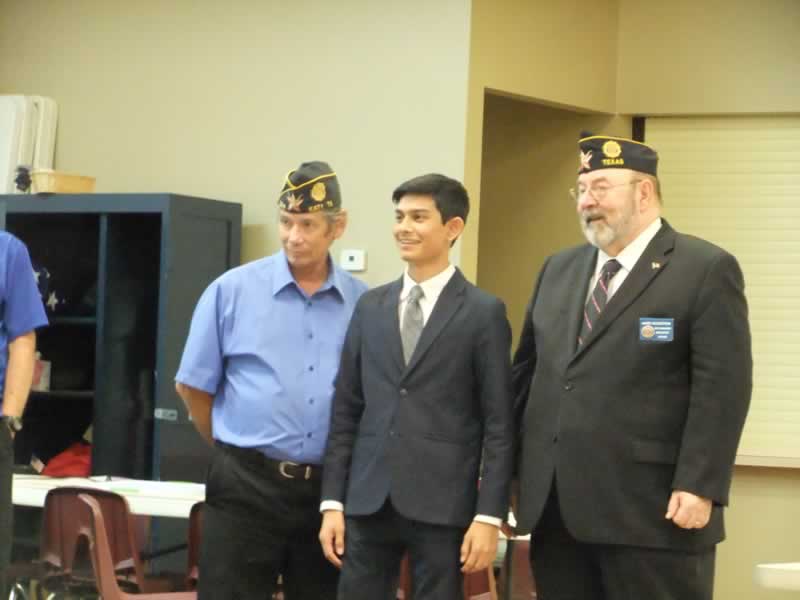 Oratorical Winner Post 164 2018
Sid Puranik, a senior at Tompkins High School, won a $250 college scholarship in the 2018-19 oratorical contest sponsored by American Legion Post 164 in Katy. He's pictured on Nov. 28 2018 with Post 164 members Ernie Cormier (left) and Harry Woodstrom. The next level of competition is for District 22 and will be on Jan. 9 at Post 521 in Pasadena for Houston-area winners. (Photo by Forrest Croom).
UPDATE: Sid has since gone on to win the District 22 oratorical contest (pictured here on January 9 2019 with Jim McGuire (right) and will be competing for the 2nd Division title on January 20 at 1:00 PM at Post 521 in Pasadena.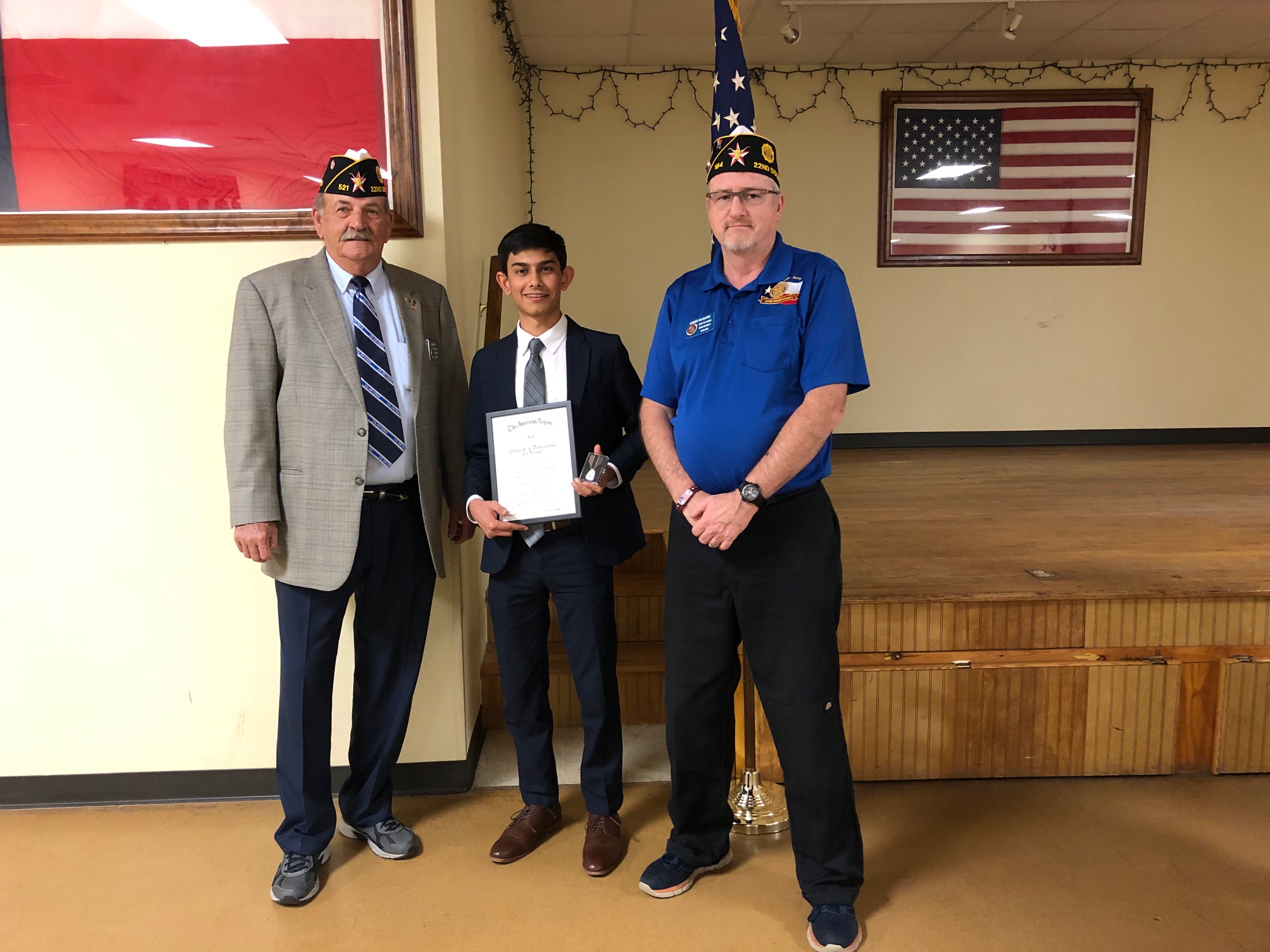 Oratorical Winner District 22 2019
UPDATE: Four contestants took part in the competition for the 2nd Division title on January 20 at 1:00 PM at Post 521 in Pasadena.
2nd District winner: Ivan Torres of Lumberton HS from William Holt Curtis Post 72
6th District winner: Peter Brown of Midlothian HS from Chris Kyle Post 388
8th District winner: Revjeer Kindra of Cy Falls HS from Jersey Village Post 324
22nd District winner: Sid Puranik of Tompkins HS from Jonathan D. Rozier Post 164
Congratulations to all for a well-fought competition. Revjeer Kindra will be going forward to compete at the Department level representing the 2nd Division.