Due to Covid 19, the 2020 Boys State Program will now be held online. For further details please contact Post 164 Boys State Chair Harry Woodstrom at 281-395-3629.
Dear Post 164,
Thank you so much for giving me the opportunity to attend Boys State this past week, it was an incredible experience. I learned so much, made so many great friends, and had so many great times at Boys State. It surpassed any expectations I may have had beforehand, and was truly one of the best weeks of my life. I look forward to sharing my experience with y'all come July 9th! Thank you again.
Jonathan Tucker
American Legion Boys State is among the most respected and selective educational programs of government instruction for high school students. It is a participatory program where each participant becomes a part of the operation of his local, county and state government.
Boys State has been a program of The American Legion since 1935 when it organized to counter the Fascist inspired Young Pioneer Camps. The program was the idea of two Illinois Legionnaires, Hayes Kennedy and Harold Card, who organized the first Boys State at the Illinois State Fairgrounds in Springfield.
At American Legion Boys State, participants are exposed to the rights and privileges, the duties and the responsibilities of a franchised citizen. The training is objective and practical with city, county and state governments operated by the students elected to the various offices. Activities include legislative sessions, court proceedings, law enforcement presentations, assemblies, bands, chorus and recreational programs.
High school juniors are selected by American Legion Post 164 to attend the program. In most cases, expenses associated with attending this program are paid by school discretionary funds and may be subsidized by a sponsoring American Legion Post, a local business or another community-based organization if funds become available.
American Legion Boys State is currently conducted in 49 Departments of The American Legion. Hawaii does not conduct a program. As separate corporations, Boys States vary in content and method of procedure, but each and every Boys State adheres to the basic concept of the program - that of teaching government from the township to the state level.
For online details visit www.legion.org/boysnation
---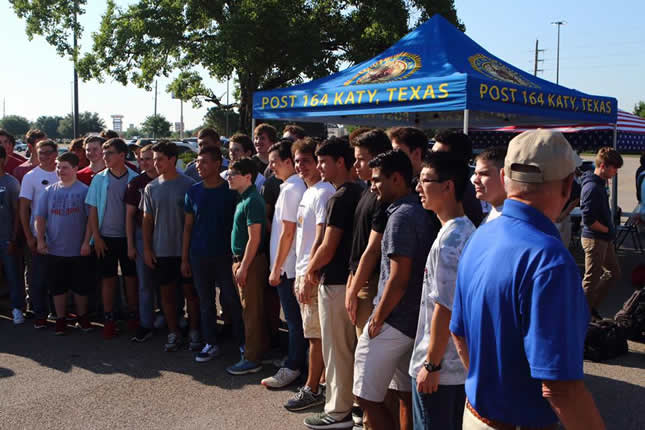 Boys State Program 2019
Cinco Ranch: Carson King, Hunter Dade, Isaiah Dycus, Jun (Andy) Sung Lee, Michael Klushin, Oliver Marlos, William Nicholson
Faith West: Dan Owen, Zane Vincent
Katy: Viswanathan Dhanabal, Maverick Anderson, Zachary Baker,
Mayde Creek: Anthonly Hernandez, Hakeem Werra, Jesus Limones
Morton Ranch: Gabriel Garcia, Ian Gopinath, Nathanael Hernandez
Paetow: Chase Stanley, Corbin Vail
St John XXIII: Canyon Neudorfer, Christopher Speed, Eric Pink, Weston Glueck
Seven Lakes: Luka Christianson, Trevor Schmidt,
Taylor: Eduardo Agualar, Even Flesser, Lucca Cortarelli, Matthew Schaefer
Tompkins: Akheil Thomas, Christopher Wong, Iroghene Edewor, Michael Accone, Rehand Ruawalla, Sheev Dave
---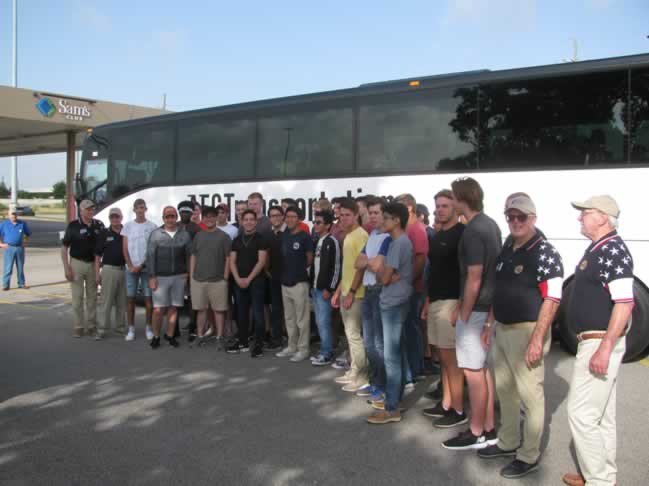 Boys State Program 2018
Seven Lakes: Brody Ameen, Justin Ardis, Jacob DeGeurin, Alejandro Mantilla, Robert Myers, Joshua Shimbashi.
Cinco Ranch: Luke Austria, Nicholas Betts, Joshua Jung, Nicholas Pappas, Matthew Pharis.
Katy: Parker Egan, Dylan Koch, Mark Nicholson, Chandler Scott, Christopher Tucker.
Faith West: Lucas Campbell, Andrew Carrico, Joshua Romero.
Mayde Creek: Steven Garza, Joshua Brian Soriano, Alexis Zepeda. Tompkins: Vincent Bruce, Michael Han, Sean Koo.
Morton Ranch: Terrell Gray, Alberto Hernandez, Thomas Walters.
Taylor: Michael Arellano, Jared Morris.
St. John XXIII: Thomas Reboli.
---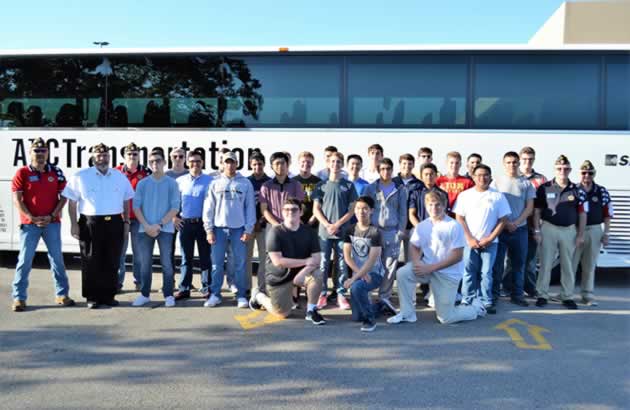 Boys State Program 2017
Cinco Ranch HS: Dominic Barzilla, Michael Tian, Dylon Wallis.
Faith West HS: Christopher Crain, Cameron Thieme.
Katy HS: Alexander Matthey.
Mayde Creek HS: Quincy Cormier, Carlos Cortez, Sebastian Enzi, Isaac Hughes, Gregor Ras, Arman Yazdian.
Morton Ranch HS: Jordan Bates, Trech Drake, Juan Fuentes.
St. John Prepratory HS: Christian Costello, George Kopf, Tyler Skinner.
Seven Lakes HS: Drew Bulawa, Hayden Humes, Jingtao Zhang.
Taylor HS: Mason Nichols.
Tompkins HS: Francisco Cano, Andrew Powell, Grant Shelton, Michael Thumann.
Please click to view the Gallery
---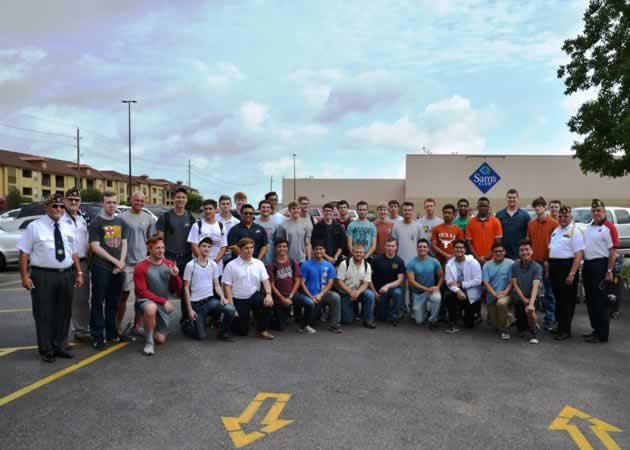 Boys State Program 2016
Cinco Ranch HS: Michael Sporkin, Leonardo Collier, Aaron Barnard, Nicolas Machado, Kevin Banky, Christopher Pappas, John McComas, Colton Mandel, Brandon Sanders.
Katy HS: Jonathan Tucker, Baylor Wrubel.
Mayde Creek HS: Shourya Kashyap, Mark Manriquez, David Fernandez, Steven Miedke, Eliyah Ott.
Morton Ranch HS: Scott Schuster, Harvey Lail, Daniel Garcia, Robert Armour.
St. John Prepratory HS: Jack Budzinski, Rick Fontenot.
Seven Lakes HS: Bibartan Jha, Daoud Qamar, Connor Cerda.
Taylor HS: Brandon Fremin, Nicholas Terry, Zakary Mayhew.
Tompkins HS: Zachary Steudel, Charles Schmidt,