Welcome to American Legion Post 164 Katy TX
Video Conferencing
While we are dealing with the Covid-19 pandemic we are holding many of our meetings through video conferencing. For those of us not familiar with these platforms, the following list of "how to" videos may be useful:
---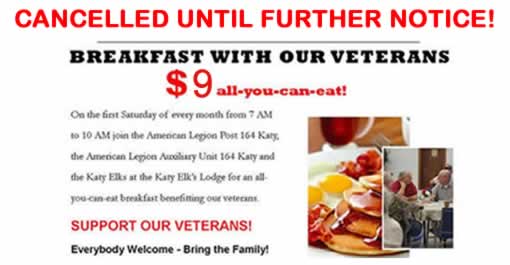 The Commander of the American Legion Post 164 and the Exalted Ruler of the Elks Lodge 2628 have reviewed the new orders from the Governor and the County Judge and have decided that Breakfast with our Veterans should be closed until further notice. Actual opening dates will be communicated as conditions change.
---
The Legion Act
On July 30, President Trump signed into law the LEGION Act – and our National Charter was immediately changed from having seven eligibility eras to two eligibility eras, subject to the same limitations and restrictions as before. Additionally a new clause was added regarding nondiscrimination.
Please click on the link below for an explanation of the change and the proper wording the Posts will need to use to update their C&B and submit to the Dept Judge Advocate for review.
The Legion Act
---
Member Profile July 2020: Johanna Zollman, 1st Vice Commander
Johanna Zollmann, First Vice-Commander Post 164, was elected to represent our Post on June 14, 2020.
She comes to us as a veteran from the United States Army and currently is employed as the Social Services Manager of Combined Arms of Houston, Texas. She served six years with the Army and held numerous positions of responsibility as a Licensed Clinical Social Worker and did tours in Grafenwoehr, Germany, FT Drum, NY, and FT Sam Houston, TX. She has a Bachelor's Degree from University of Illinois as well as a Master's Degree of Social Work from Fayetteville State University. Johanna has been with us less than a year and has assumed responsibility at the Post. Her current position at Combined Arms, combinedarms.us, assists veterans transition out of the military by connecting them to over 400+ customized resources provided by our 72 vetted member organizations.

Johanna is a single mom living in Bear Creek Village and has a daughter of 4 years of age. She loves to renovate her house, garden, and spending time with her daughter and Doberman.
She is looking forward to serving Post 164 to the best of her ability and hopefully be a valuable asset in the future.
We welcome Johanna with all our best and look forward to working with her in the coming years.
---
Events Schedule