The day started as usual, no sleep. I never seem to be able to sleep the night before the biggest event of my month; VETERANS BREAKFAST AT THE ELKS LODGE!
This day started as usual, but every Veterans Breakfast brings me so many new adventures. This breakfast did not disappoint.
>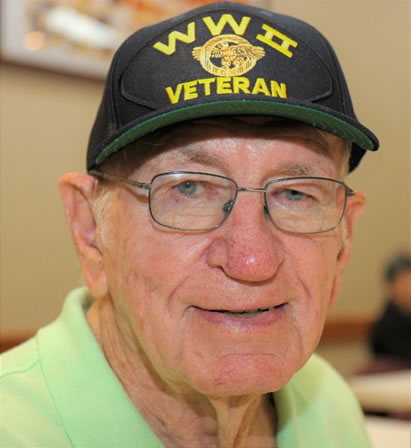 Leonard Mulholland; Photo by Neil Hines
This month I got to meet and speak with Leonard Milholland. Leonard is a World War Two Veteran, if that is not amazing enough, he is 97 years old, born in Kansas City, Missouri in 1924. And Leonard is also fortunately in great health and still very productive businessman.
As I spoke with Leonard and his wife Donna, it became clear that all three of us suffered from a common malady for senior citizens; hearing loss. So, we got near and spoke loudly as he shared just a very short profile of his life.
Leonard wanted to join the military as soon as we were attacked at Pearl Harbor on December 7, 1941. However, he had to wait until he was at least 17 years of age. So, Leonard waited, and not so patiently, but finally in 1942, Leroy joined what was then the Army Air Corp and served as a pilot until his discharge in 1946.
During that time, he flew and trained others to fly B-24 aircraft designed and made by Consolidated Aircraft of San Diego. Known then and now as a Liberator, it served as a heavy bomber. Leonard said he loved flying that aircraft "and anything else they would let me fly."
And fly he did. He trained other pilots, held training while doing patrol runs on the coast and gulf looking for enemy surface ships and submarines. He was a very active and committed pilot, who just a few years ago was sitting at home until the Japanese bombed Pearl Harbor.
Leaving the military after the end of the war at barely 21 years of age he entered civilian life. But he never lost his passion which was flying.
What does he remember of World War Two? He told me "We were all going in the same direction. It was the first and only time we have done that."
In our short conversation we spoke of age. He said "You are just a teenager." I said "Wait, I'm 70 years old" to which he responded "Yea, like I said, a teenager."
Leonard is typical of our veterans of that generation. Every Veterans Breakfast I see those World War Two Veteran ball caps. I try to thank each of them for their service and just enjoy their company for a few minutes, not wanting to interfere with their breakfast. However, I have found everyone of these veterans welcoming and wanting to talk.
And that was just one person at this breakfast with many, many more fine veterans. Veterans of just not World War 2, but all the wars, Korea, Viet Nam and to present.
So come see us at our next Veterans Breakfast held on the first Saturday of every month.
Veterans Breakfasts are held at the Elks Lodge B.P.O.E every first Saturday of every month. The lodge is located at 1050 Katy Fort Bend Road, Katy Texas 77493. You can call the lodge at (281) 391-2763 or email them at katyelks@gmail.com. You can also visit our website at www.katyelks.org
---
Johanna Zollmann, First Vice-Commander Post 164, was elected to represent our Post on June 14, 2020.
She comes to us as a veteran from the United States Army and currently is employed as the Social Services Manager of Combined Arms of Houston, Texas. She served six years with the Army and held numerous positions of responsibility as a Licensed Clinical Social Worker and did tours in Grafenwoehr, Germany, FT Drum, NY, and FT Sam Houston, TX. She has a Bachelor's Degree from University of Illinois as well as a Master's Degree of Social Work from Fayetteville State University. Johanna has been with us less than a year and has assumed responsibility at the Post. Her current position at Combined Arms, combinedarms.us, assists veterans transition out of the military by connecting them to over 400+ customized resources provided by our 72 vetted member organizations.

Johanna is a single mom living in Bear Creek Village and has a daughter of 4 years of age. She loves to renovate her house, garden, and spending time with her daughter and Doberman.
She is looking forward to serving Post 164 to the best of her ability and hopefully be a valuable asset in the future.
We welcome Johanna with all our best and look forward to working with her in the coming years.
---
Mark Moore, Post 164's new sergeant-at-arms, joined the post just this year but has been a member of The American Legion since 2011.
Mark retired from the U.S. Coast Guard in 2010 after 27 years.
Earlier, he served in the U.S. Army for 3 years.  He went through basic training and advanced individual training at Fort Leonard Wood in Missouri and moved to Ettlingen, Germany as a combat engineer with the 78th Engineer Battalion, 7th Corps.
After the Army but before the Coast Guard, he was a roughneck on drilling rigs in the U.S. for 5 years.
Mark joined the Coast Guard in 1983 and went through basic training at Cape May in New Jersey.  He served in Galveston as a seaman and later on a patrol boat in Sabine Pass before moving to Florida as a crew member on a cutter out of St. Petersburg.  He then had posts as a quarters manager in Miami and at Governors Island in New York.
As a health and safety inspector out of Norfolk, Virginia, Mark and five team members inspected Coast Guard units from the East Coast to Texas and from Sault Ste. Marie, Michigan to the Caribbean Islands.
He was base exchange officer in Ketchikan, Alaska and had jobs on comptroller teams at Cape Cod, Massachusetts and Kodiak, Alaska.  The Kodiak stint included deployment to Bahrain as logistics officer for a cutter conducting operations with the U.S. Naval 5th Fleet.
Shortly after leaving the Coast Guard, he worked on a team that tested equipment to find new recovery technologies during the major oil spill from the Macondo well in the Gulf of Mexico.  Later, Mark moved to Western Australia as a deputy shipping superintendent during construction of a liquefied natural gas plant.
During the Coast Guard years, he earned a master of science degree in disaster preparedness and crisis management from Grand Canyon University in Phoenix, and a bachelor's degree in general studies from Charter Oak State College in Connecticut.
Mark and his wife Sandy have three children.
---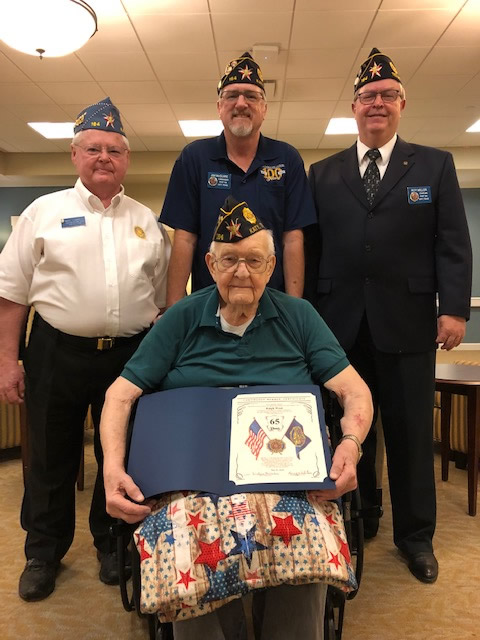 A 65 Years of Continuous Service Certificate was presented to Legionnaire Ralph West by American Legion Post 164 Katy Commander Jim McGuire with Post 164 Chaplain Roy Miller and Sons of the American Legion Squadron 164 Chaplain Mike Connell. Ralph was also presented with a small quilt.
---
Post 164's new commander, Jim McGuire, has been a member of The American Legion for eight years, the last six in Katy.  He most recently was vice commander.  Earlier jobs were finance officer and historian.
"I would like to see the post have an increase in membership, an increase in active membership, and an increase in community involvement," he said.
Jim retired from the U.S. Army in 1999 after serving 20 years, mostly as a mechanic and maintenance supervisor.
He went through basic training in 1978 at Fort Leonard Wood in Missouri after graduating from high school in Tonganoxie, Kansas. He then moved on to Fort Hood in Texas. In late 1979, Jim went overseas to Mannheim, Germany where he was assigned to the 377th transportation company, responsible for moving tanks and heavy engineering equipment throughout Europe.
In 1982, Jim transferred to a maintenance battalion at Fort Campbell in Kentucky. In 1984, he was assigned to the 2nd Infantry Division in South Korea.  He returned to Fort Campbell in 1985.
Jim went back to Germany in 1988 in a signal battalion and then in 1991 moved to Anchorage, Alaska to serve in a field artillery regiment. In 1995, he transferred to a support group at Fort Stewart in Georgia until his retirement.
Jim is a parts coordinator at Camping World RV Supercenter in Katy.  He has been married to Melody for five years.  He has a son in the U.S. Air Force and a stepson.
---
Monte Ikner has been chairman of the Post 164 Boys State committee since 2014 and plans to hand off the job after the 2019 Boys State program.
In June of 2018, 31 Katy-area high school boys attended the week-long program in Austin. Monte and other committee members prepare and distribute mailings to high school counselors and principals in January of each year. They follow up with interviews on campuses after boys in their junior year have been nominated by their counselors.
Most boys interviewed are selected. "A lot depends on their grades, assertiveness, and confidence," he said. "At Boys State, they will be campaigning and competing against boys from all over Texas for various government jobs."
During Monte's tenure, he has authored a Post 164 Boys State procedure manual for the committee to follow. This procedure has been recognized by District 22 and is now recommended for other posts to follow.
Monte has also served Post 164 as vice commander, historian, and membership chairman. He is a graduate of The American Legion Extension Institute (ALEI) and is Paid Up For Life (PUFL).
Originally from Danville, Virginia, Monte moved to California when he was 9. He went through Army boot camp at Fort Ord in California in 1952 and military intelligence school at Fort Devens in Massachusetts. He was assigned to Europe Headquarters Command in Seckenheim, Germany, and was a cryptologic/top secret courier of intercepted data from field installations to military intelligence headquarters for two years.
He left the Army in 1964 and began working as corporate equipment manager for National Convenience Stores in Houston. After 25 years, he opened his own company. He retired in 2008.
Monte has been group leader of a local travel club since 2012 and accompanies travelers on most trips.
Monte and his wife, Wilma, have three sons, all residing in Texas.
---
Tony Hart leads Post 164's honor guard, which serves at community events and at military funerals. In the first half of 2018, the honor guard attended 34 funerals, some as far as 50 miles away. The honor guard has 14 members and trains every month. Training includes flag folding, rifle firing and cleaning, and flag history.
Tony grew up in a military family that lived in Washington, D.C.; Bangor, Maine; Sumter, South Carolina; Sacramento, California; and Tokyo, Japan.
After graduating from high school in Tokyo, Tony studied economics and finance at Texas A&M. He graduated in 1967 and was commissioned from the Corps of Cadets as a lieutenant in the Air Force.
Awarded pilot wings in 1968, Tony was later deployed to Kunsan, South Korea during the Pueblo spy ship crisis.
Tony was assigned to Thailand in 1971 and completed 200 aerial combat missions over Laos and North Vietnam as a fighter pilot and forward air controller, earning the Distinguished Flying Cross. While at Bergstrom Air Force Base in Austin, Tony and his wife Donna founded the Austin chapter of the POW-MIA Association in 1972.
In Stuttgart, Germany in the late 1970s, he participated in NATO exercises and completed a master's in psychology.
After being an instructor pilot at Shaw Air Force Base in South Carolina, he moved on to civilian life and worked for 35 years with Texas Nuclear and Thermo Fisher Scientific before retiring in 2015.
Tony and his wife have two children and five grandchildren.
---
Forrest Croom is chairman of Post 164's training committee, which provides information at monthly meetings on subjects such as post history, flag folding, presentation of the colors, and uniform requirements.  He's been a member of The American Legion for five years.
He joined the Navy in 1959 and served for seven years.  In 1967, Forrest signed up for the Coast Guard and served for 35 years, including more than seven years of active duty. 
He served two summers each aboard two Coast Guard Cutters: the Courier in the Great Lakes and the Cuyahoga out of Yorktown, Virginia.  He became the first Master Chief Petty Officer of the Coast Guard Reserve Forces in 1991 and retired from the service in 2001.
Forrest has a bachelor's degree in law enforcement from Lewis University near Chicago.
As a civilian, he  worked in fire safety and security roles for International Harvester and J.I. Case in Illinois, and Navarro Pecan Co. in Corsicana, Texas.
He has served as president of the Coast Guard Chief Petty Officers Foundation and currently is vice president of the Fisher House Friends of Houston Foundation, which helps military families in the three Fisher Houses at the VA Medical Center in Houston.
He has been chapter president of the Chief Petty Officers Association in Washington, D.C., Green Bay, and Houston.
Forrest and his wife Nancy have two children and seven grandchildren.
---
Ernie Cormier has served Post 164 as commander (twice), vice commander, sergeant-at-arms, and most recently as judge advocate.
As commander (the second time), he entered the post's first-ever float in the Katy Rice Harvest Festival Parade.
Ernie grew up in Lumberton, Texas, and joined the Navy in 1974. He went to boot camp in Orlando, Florida, and then to Great Lakes, Illinois, for Electrician's Mate "A" School. He was stationed on the USS Yosemite (AD-19), a destroyer tender, and twice went to the Mediterranean Sea. He also had special wartime training at Guantanamo Bay Naval Base in Cuba. Ernie achieved the rank of petty officer electrician's mate third class before leaving the Navy in 1978.
Ernie has one son. He is a licensed massage therapist and the author of two books of poetry, "Within My Silence" and "Poems and Thoughts."
---
Ron has served Post 164 as sergeant-at-arms, membership chairperson, vice commander, and chaplain. He has also served on the post's honor guard at funerals for veterans and at other ceremonies.
He was born in El Campo and graduated from high school in Ganado in 1964.
Ron was in the U.S. Army for three years, mostly working in multi-channel radio repair. He reached the rank of Specialist 5th Class (E-5) before leaving the Army in late 1968.
His basic training was at Fort Polk, Louisiana, followed by advanced infantry training at Fort Gordon, Georgia.
Ron went to Germany in August of 1966 and served 27 months in the 32nd Army Air Defense Command, 4th Battalion, 6th Air Defense Artillery. Ron was the UHF (ultra high frequency) radio section chief responsible for maintaining a UHF radio network for the battalion.
He worked for Southwestern Bell Telephone from December of 1968 until retirement in November of 2001. He later worked for Erickson Electrical Equipment for almost 14 years.
Ron and his wife Kay have three grown daughters and one granddaughter.
---
Bill Seaton, 77, has been a member of American Legion Post 164 for 5 years. His wife Sandra is a Charter Member and the Chaplain for American Legion Auxiliary Unit 164.
Bill grew up on a small farm in Mount Vernon, Missouri, between Springfield and Joplin. Bill joined the U.S. Army in 1958 at 18, originally planning to stay in for 3 years. Bill and Sandra got married in 1961 after dating for 5 months. With his wife's okay, he decided to make the Army a career.
In the United States, Bill served at Fort Leonard Wood, Fort Eustis and Fort Wayne. Overseas, he was in Germany, Iceland, Antarctica and Korea. Bill worked in food service as a cook and in transportation making tractor suspensions. After 20 years and 27 days he retired in 1978 as a sergeant first class.
At age 60, Bill came down with a neuromuscular disease known as myasthenia gravis. He is also on dialysis due to loss of both kidneys.
Bill and Sandra celebrated 56 years of marriage on Aug. 5, 2017. They have 4 children, 12 grandchildren, 7 great-grandchildren and 2 more on the way.
---
A thousand hours for Jim Foland
Jim Foland, Post 164's service officer, recently received an award from the Department of Veterans Affairs for volunteering a thousand hours in Katy during the past four years.
Jim is one of several volunteers in Voluntary Service at the Katy VA Outpatient Clinic at 750 Westgreen Blvd. He does photocopying and collating of documents and passes out booklets and magazines. He also prints out labels and verifies names for laboratory requests. He says anywhere from 50 to 65 veterans show up in the mornings in the early part of each week. Most are veterans of Korea and Vietnam, but some are veterans of Iraq and Afghanistan.
Jim, 74, served almost 22 years on active duty in the U.S. Army and eight years in the reserves before retiring in 1990.