Your Post is named after Jonathan D. Rozier, so it is fitting that you meet him and get to know the Katy resident who served his country with honor and distinction in the global war on terrorism.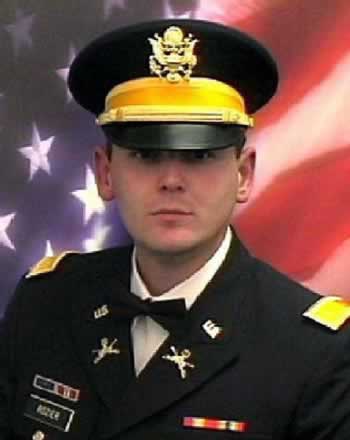 Lt. Jonathan D. Rozier
Jonathan David Rozier was born on July 16, 1978 in Dallas TX to David and Barbara Rozier. At age 13 the family moved to Katy TX. His parents decided Jonathan would be 'home schooled'. Upon completion of his high school studies, Jonathan enrolled in Texas A&M University. Jonathan always felt a calling to military service and to that end joined the Texas A&M Corp of Cadets. Jonathan, a five year senior, graduated from Texas A&M University with a Bachelor of Science in Economics on December 15, 2001. Also on the afternoon of December 15 2001 Jonathan took his oath and was commissioned a Second Lieutenant in the United States Army. And wasting little time, on the 16th he and his fiancee were on their way to Louisiana and on the 18th he married his fiancée, Jessica Desiree O'Rourke of New Orleans LA. 10 months later the couple's son, Justin David Rozier was born at Fort Riley KS.
Jonathan soon began his training on the M1A2 Abrams main battle tank. Upon completion he was assigned to the 1st Armored Division and demonstating early the characteristics for leadership, was made a platoon leader. After receiving his orders to Iraq, Jonathan was assigned to the 2nd Platoon Bravo Company, 2nd Battalion, 70th Armored Regiment. While in command of 2nd Platoon Bravo Company and assigned to the 101st Airborne Division, Jonathan earned the Bronze Star for Valor. 2nd Lieutenant Rozier continued to serve with distinction and was promoted to 1st Lieutenant. His honorable service came to an end at the hands of the enemy in Iraq on July 19, 2003, three days after his 25th birthday. At the time of his death, 1LT. Rozier had earned the Bronze Star with "V", Purple Heart (posthumously), Meritorious Service Medal (posthumously) and received the National Defense Service Medal, Armed Forces Expeditionary Medal, the Army Service Ribbon and the Combat Action Badge (posthumously). He was also authorized the Presidential Unit Citation and Army Meritorious Unit Citation. At the time Lt. Rozier earned the Bronze Star, over 4,000 Bronze Stars had been awarded but only 15 were for Valor.
When 2nd Lieutenant Jonathan Rozier entered the village of Al Hillah in central Iraq, he did not know what awaited him and his tank platoon.
2nd LT Rozier, Jonathan D. B Co. 2-70th AR (BSM V) Narrative: On 31 March 2003, 2LT Rozier led his platoon in the Battle of South Al Hillah. He skillfully maneuvered his platoon through the streets during the 12.5 hour battle as intense small arms, RPG and indirect fire ricocheted off his tanks. He returned fire with lethal results. Due to the lack of trucks, 2LT Rozier's platoon was carrying a platoon of infantry from C/1-502 IN on his tanks. When the lead platoon from the company came under fire, 2LT Rozier quickly dismounted the infantry from his tanks. The infantry platoon was pinned down almost immediately due to the continuous fire. 2LT Rozier with little regard for his own safety ordered his tanks to move in between the enemy positions and the pinned infantry. Despite taking several direct RPG hits to his tank, 2LT Rozier destroyed the enemy positions with textbook fire and maneuver, thereby allowing the infantry to move to more advantageous positions from which they were able to continue the fight. Because of the lethal direct and indirect fires brought to bear on the enemy by 2LT Rozier and his Platoon, he was a primary factor in TF 2-70's destruction of over a battalion of the Nebacanezzer Republican Guard. Additionally, his fires were so effective, an additional brigade of the Republican Guard was held in defensive positions north of Al Hillah. This prevented them from being moved to a position were they could affect the Corps main effort, 3ID's attack in the vicinity of Karbala.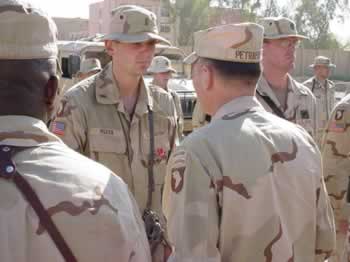 Lt. Jonathan D. Rozier receives the Bronze Star for Valor from General David Petraeus
His Citation reads: For heroism in connection with military operations against a hostile force in Iraq in support of Operation Iraqi Freedom. 2LT Rozier distinguished himself while serving as the 2nd Platoon Leader of Company B, 2nd Battalion, 70th Armor during their attack into southern Al Hillah, Iraq. 2LT Rozier's personal bravery and courage under fire are in keeping with the highest traditions of military service and reflect great credit upon himself, the 101st Airborne Division (Air Assault) and the United States Army.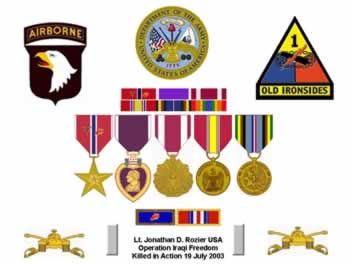 Personal Decorations and Service Medals of Lt. Jonathan D. Rozier
Tidewater Inc. is naming an oil service supply ship after 1st Lt. Jonathan Rozier, assigned to B-Company, 2-70 Armored Battalion, who was killed when his military vehicle was hit by rocket-propelled grenades July 27 in Iraq.Gwen Philips, Rozier's late grandmother, worked at Tidewater's New Orleans headquarters for 24 years until retiring in 1995.The M/v Jonathan Rozier, a vessel under construction at Bollinger Shipyards Inc. of Lockport, is designed for high speed and large cargo capacity. A christening ceremony will be held to honor Rozier when the ship is delivered in March. Tidewater also contributed $5,000 to the Justin David Rozier Scholarship at Tradition Bank in Katy, Texas, for Rozier's infant son. Michael Goldblatt, assistant general counsel for Tidewater, brought Rozier's death to the attention of Chief Executive Officer Dean Taylor. Phillips had worked in Goldblatt's department as a legal assistant during her Tidewater tenure."I was surprised (Taylor) was so taken with the news," Goldblatt said, adding Taylor remembered Phillips and had served in the military as well. "At Tidewater, the highest honor is to name a ship after a person alone. Usually we have 'Tide' in the name."
On behalf of the entire membership of Katy Post 164, Commander Paul Dudkowski would like to thank the Rozier Family, David and Barbara and Jessica for providing the photos and the background information needed to create this tribute page to Jonathan.