Paul Kousoulis was born in the small town of Elika Greece in 1935. Today, when we spoke, he was 86 years of age.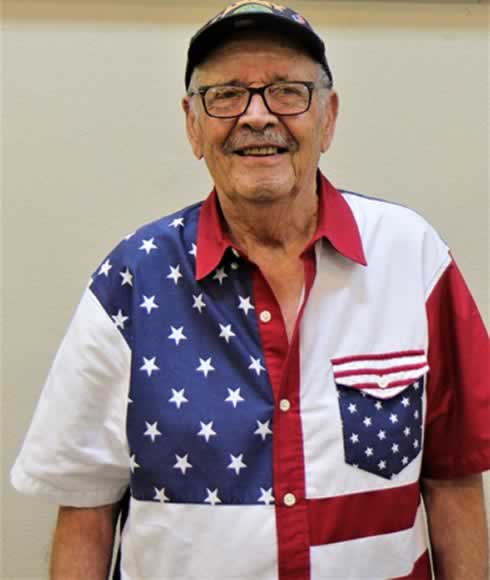 Paul Kousoulis; Photo by Neil Hines
In 1947 he was placed upon a military transport ship where he was transported to Ellis Island, New York City for immigration screening. After a short while he was permitted entrance, however, his father was not allowed into the United States for another 8 months.
At the age of 25 Paul received his draft notice and reported for induction into the United States Army. During boot camp it was discovered that he should not have been drafted as he was not an American citizen, but a citizen of Greece. So how did the Army solve this problem? He was made an American citizen before completing boot camp.
When he went to his first base, he was assigned to the mess hall. He was never asked what he wanted to do, no, they told him he was "going to cook." So, with no training, no culinary school or even the slightest guidance he learned 'to cook."
After his term of 2 years was complete, Paul reentered civilian life as both a citizen and cook. Then something happened … At the age of 28 Paul was told to report again to the Army and went to Korea. He stayed in Korea until the armistice happened on July 27, 1953.
Paul became such a good cook that his final assignment in the Army was to serve as the head chef at the Officer's Mess. During this time, he met a young woman named Helen. He and Helen were married Helen in 1959. They are still enjoying their lives together today.
He took his culinary skills he learned in the Army and was employed at some of the nicest restaurants around the country; The Nixon and Marshalls in Pennsylvania as a sou chef and The Black Angus where he was the head chef for 13 years.
Finally, he took his culinary expertise to Demeris BBQ where he applied his trade for the next 38 years before retiring.
Paul Kousoulis is typical of the immigrants of his era. They were not, and he does not identify as Greek-American. No, he is only American. When asked about his life in America he stated this:
"America is my land, a land that I love. America gave me everything I have. I would have had nothing if I stayed in Greece. No, in Greece I would still be a dirt-poor farmer."
---
Aaron Medoza, Jr. was born in Houston, Texas in 1924. On the day of our conversation he was 96 years old.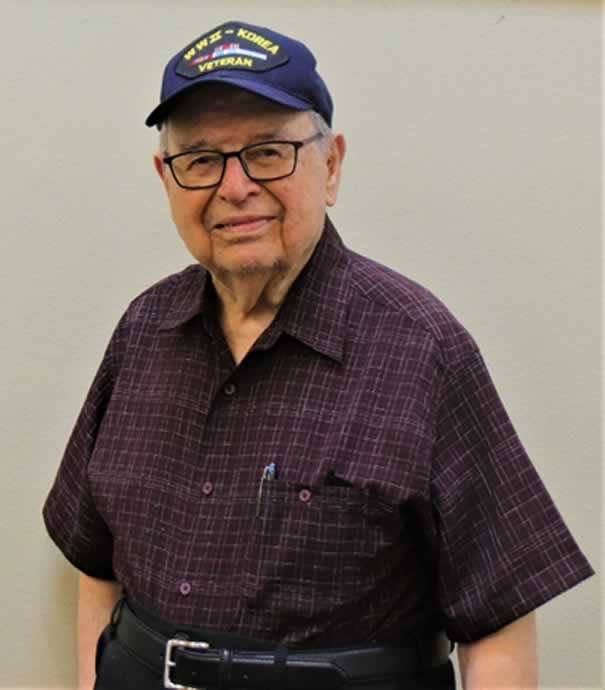 Aaron Mendoza; Photo by Neil Hines
Aaron was easy to talk to, though a little intimidating to me. He was like many others that I have met before of this "Greatest Generation" possessing a gentleness balanced with fierceness. Though he was short in stature he loomed tall in my eyes.
His manner of speech was exacting. I would ask a question and he would respond with details. He would state and restate something until it was exact upon my retelling. I could see why and how he was so well fitted for his job while serving in the US Navy in World War Two.
Aaron enlisted into the Unites States Navy in 1943 and served until the end of the war in 1945. Although in the Navy, Aaron never served on any ships. He was assigned to a Naval Research and Development Faculty where he was tasked with overhauling torpedoes to be used on surface and air craft.
I asked Aaron if he was part of the research team dealing with the problems that the Navy was having with torpedoes used in submarines. Humbly, he stated that he did not have anything to do with the torpedoes used on submarines but only those used on "destroyers and planes mostly."
He said "it was my job to make sure they went straight at 16 feet." And from just the few moments that we spoke, I am sure that he was very good at his job.
After World War Two service, Aaron was once again called back into service. However, this time it was not with the Navy, but with the Air Force at Kelly Air Force Base. This time he served as an Expediter. It was his job to make sure that things happened as planned and on time. Again, I have no doubt he was good at his job.
After his military service of Two Wars with two different services, he entered civilian life and ventured into Sales. But not just any type of sales; Computer Data Sales.
Working for the Company Computer Data, Aaron sold the data base used in Sky Lab at a cost of 8 million dollars. He then followed up that sale with other sales to Superior Oil and Texaco for 6 million and 20 million respectively for seismic programs. Again, Aaron was good at his job.
Aaron lost his wife, Viola in 2009 after 62 years of marriage. However, Aaron has a large family that he interacts with and is close to. It is not uncommon for Aaron to attend the Veterans Breakfast each month with 12 or more of his family in tow. We have at times set aside 2 or more tables for Aaron and his many friends and family. It's a joy to watch them as they sit, talk and enjoy each other's company. They are what all American families should be. However, this sight is not odd. This concurs very much with Aaron's philosophy of life. When asked what is the most important thing in life he said "I believe strongly in the unity of family." He not only says this, but throughout his life he has proven that these are not just nice words to utter; but to live.
---
The day started as usual, no sleep. I never seem to be able to sleep the night before the biggest event of my month; VETERANS BREAKFAST AT THE ELKS LODGE!
This day started as usual, but every Veterans Breakfast brings me so many new adventures. This breakfast did not disappoint.
>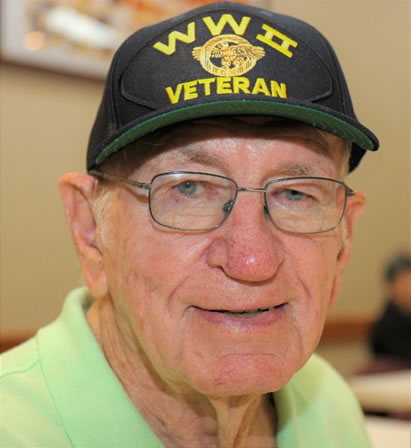 Leonard Mulholland; Photo by Neil Hines
This month I got to meet and speak with Leonard Milholland. Leonard is a World War Two Veteran, if that is not amazing enough, he is 97 years old, born in Kansas City, Missouri in 1924. And Leonard is also fortunately in great health and still very productive businessman.
As I spoke with Leonard and his wife Donna, it became clear that all three of us suffered from a common malady for senior citizens; hearing loss. So, we got near and spoke loudly as he shared just a very short profile of his life.
Leonard wanted to join the military as soon as we were attacked at Pearl Harbor on December 7, 1941. However, he had to wait until he was at least 17 years of age. So, Leonard waited, and not so patiently, but finally in 1942, Leroy joined what was then the Army Air Corp and served as a pilot until his discharge in 1946.
During that time, he flew and trained others to fly B-24 aircraft designed and made by Consolidated Aircraft of San Diego. Known then and now as a Liberator, it served as a heavy bomber. Leonard said he loved flying that aircraft "and anything else they would let me fly."
And fly he did. He trained other pilots, held training while doing patrol runs on the coast and gulf looking for enemy surface ships and submarines. He was a very active and committed pilot, who just a few years ago was sitting at home until the Japanese bombed Pearl Harbor.
Leaving the military after the end of the war at barely 21 years of age he entered civilian life. But he never lost his passion which was flying.
What does he remember of World War Two? He told me "We were all going in the same direction. It was the first and only time we have done that."
In our short conversation we spoke of age. He said "You are just a teenager." I said "Wait, I'm 70 years old" to which he responded "Yea, like I said, a teenager."
Leonard is typical of our veterans of that generation. Every Veterans Breakfast I see those World War Two Veteran ball caps. I try to thank each of them for their service and just enjoy their company for a few minutes, not wanting to interfere with their breakfast. However, I have found everyone of these veterans welcoming and wanting to talk.
And that was just one person at this breakfast with many, many more fine veterans. Veterans of just not World War 2, but all the wars, Korea, Viet Nam and to present.
So come see us at our next Veterans Breakfast held on the first Saturday of every month.
Veterans Breakfasts are held at the Elks Lodge B.P.O.E every first Saturday of every month. The lodge is located at 1050 Katy Fort Bend Road, Katy Texas 77493. You can call the lodge at (281) 391-2763 or email them at katyelks@gmail.com. You can also visit our website at www.katyelks.org