President - Michael Roper, NRA RSO
Treasurer - Harry Woodstrom, Post 164 Finance Officer
Rory Hoffman, Senior Instructor
Keith Pruden, Instructor NRA RSO
Darly Chanel, Instructor
Bruce Cray, Instructor
Peter Batura, Post 164 Commander
Jim McGuire, District 22 Commander
For more information contact jssp@legionpost164katytx.org
It's a three-part program that combines the Basic Marksmanship Course, Qualification Awards, and Air Rifle Competition.
During the past thirteen years of this program's continued fast growth, thousands of male and female junior shooters have participated, with a perfect safety record of no reported gun-related injuries.
Participants in The American Legion Junior Shooting Sports Program can be of any gender through the age of 18. Handicapped youth are encouraged to participate.
Click to download Post 164 JSSP Leaders Manual
Click to download Post 164 JSSP Students Handbook
The Basic Marksmanship Course is a comprehensive instruction package for the beginning shooter that has little or no marksmanship experience. The course insures understanding by the student and easy use by the instructor. Gun safety and marksmanship fundamentals are taught through a balanced mix of short lecture or discussion followed by hands-on activity. The package of instructions and support materials include:
INSTRUCTOR'S GUIDE - Detailed information for the instructor to teach the course.
STUDENT HANDBOOK - Now in its third edition, this popular handbook is a comprehensive reference text for beginning shooters, thoroughly covering the fundamentals of position shooting.
LEARNING TOOLS - Six quizzes and a final exam.
If an effective job is done presenting the Basic Marksmanship Course, most graduates will want to keep improving their marksmanship skills. The National Rifle Association provides MARKSMANSHIP QUALIFICATION COURSES for AIR RIFLE. These courses offer personal skill developments ladder where individual shooters work to achieve established performance standards. For each level of success, a sew-on patch and certificate of achievement are presented. Marksmanship Qualification Courses offer family fun and enjoyment that can last a lifetime. Junior shooters may enroll in these programs upon graduation from the Basic Marksmanship Course.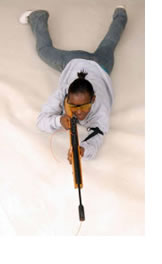 Competitive shooting is not a sport that gives the advantage to individuals of great size or strength. Physical fitness and stamina are important, but it is mental toughness and self-discipline that determine success. Competitive shooting is also one of the few sports where men and women can compete as equals. It is truly a sport which is OPEN TO ANYONE willing to practice and to test his or her shooting skills on the firing line.
THE AMERICAN LEGION JUNIOR POSITION AIR RIFLE TOURNAMENT is an annual tournament that begins with postal matches to determine state and/or regional champions. The next stage is a Qualification Round (also a postal match) to determine shooters who will earn expense paid trips to compete in the National Championship. The National Championship is a shoulder-to-shoulder match held during the summer, and is conducted at the Olympic Training Center/USA Shooting Range Facilities in Colorado Springs, Colorado. This is the same facility that our Olympic shooters train and practice on.
For more information, consult the current American Legion Junior Position Air Rifle Tournament Official Match Program.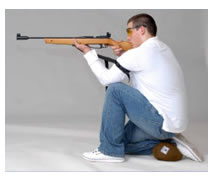 Today, the shooting sports are an important recreational activity in America. Nearly 70 million people own firearms, with over half of all U.S. households containing at least one firearm. Tens of thousands of competitors participate in matches from neighborhood tournaments to the Olympic Games. More than 20 million hunting licenses are issued annually in the United States, generating vast sums for the conservation of wildlife and wildlife habitat.
Marksmanship is a proud part of our national heritage. Our forefathers fought the Revolutionary War to gain their freedom as individuals and independence as a nation. Just a few years later the United States of America was called upon to defend its newly won independence in the War of 1812. In both of these wars, skilled American riflemen played a deciding role. It is easy to understand why Americans were skilled marksmen during the Revolutionary period. They had to know how to shoot accurately to put food on the table and for their own protection. Marksmanship skills have been valuable national assets. There is still a need for these skills.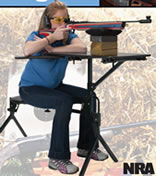 Today there is another call for expert marksmen in the exciting sport of competitive shooting. ln recent years, the United States has been a dominant force in international shooting competition. You are starting a sport that can, with study, practice, and hard work lead your junior shooters all the way to the Olympics.
Competitive marksmanship does not require great physical size or strength. Even though physical fitness and stamina are important, mental qualities determine whether a shooter will ever become a champion. Being able to concentrate completely on a task and being able to relax under pressure are two of the mental keys to success.
Skills learned in shooting are valuable in other aspects of life. Learning to be a safe shooter teaches responsibility. Learning to hit a difficult target teaches self-discipline and self-control. Learning to hold a firearm steady and hit the target teaches concentration. Knowing that the shooter alone is ultimately responsible for his or her performance teaches self- reliance and enhances individual esteem.
Shooting tests how well one can control his or her body in using a firearm to hit a target. It's hard to imagine being able to control one-self so well as to almost always hit a target the size of a typed period from l0 meters away, but in shooting that is what your participants will learn to do.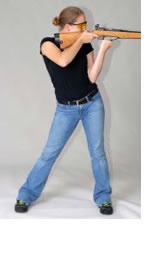 No one has to sit on the sidelines and watch; everyone can take part. This active involvement is important because sports are fun when young people can participate personally instead of watching others. Persons with physical disabilities also can take part in shooting, often right alongside other shooters in matches. Shooting is an Olympic sport.
The summer Olympics have rifle, pistol, running game target and shotgun shooting events. The winter Olympics have a biathlon event that combines cross-country skiing and shooting. Shooting is the third most popular Olympic sport. Only two sports - track and boxing- regularly have more participating nations.
Shooting also offers international championship events in the Pan American Games, World Shooting Championships and Shooting Championships of the Americas.
Injuries are so rare in target shooting that accident records arc not even kept. Shooting is safe because it has a strict code of safety that all shooters follow. Like water safety training, the firearm safety training associated with a shooting activity is of lasting value, even if the young people don't develop an ongoing interest in the shooting sports.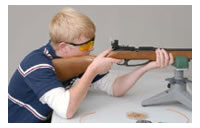 Persons of all ages participate successfully in shooting. Children as young as eight or nine can learn to shoot using BB guns and lightweight air rifles. Shooting is an exciting sport There's a special thrill in being able to hit a target the shooter isn't sure can be hit. It is fun to see shooters' abilities improve. The challenges of preparing shooters in your Program to compete against other shooters throughout the nation make every practice session all exciting event.
Boys and girls compete equally in shooting. Recent national junior championships and The American Legion Junior Air Rifle National Championships have been won both by girls and boys.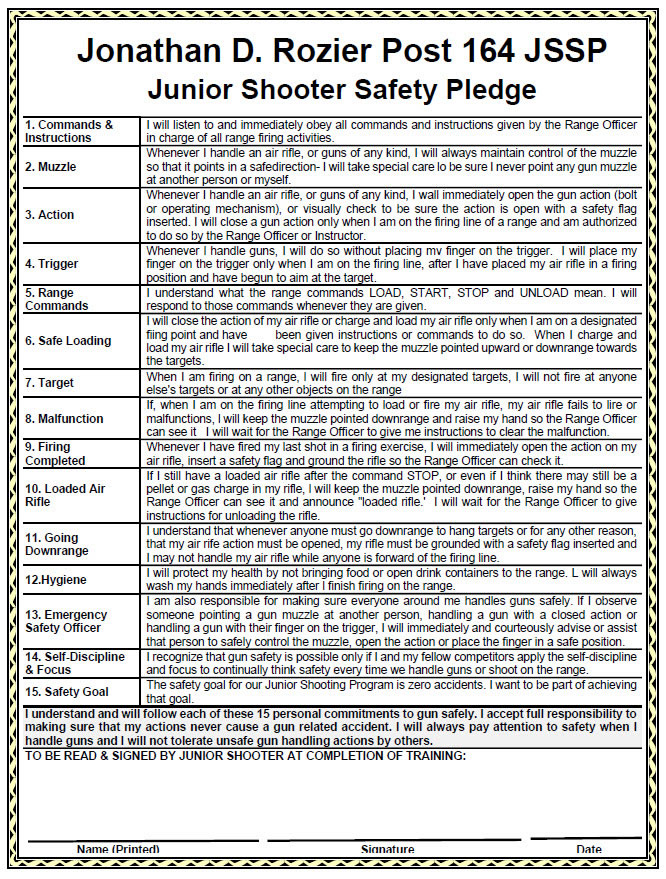 For more information contact jssp@legionpost164katytx.org


Example of rifle to be used by shooters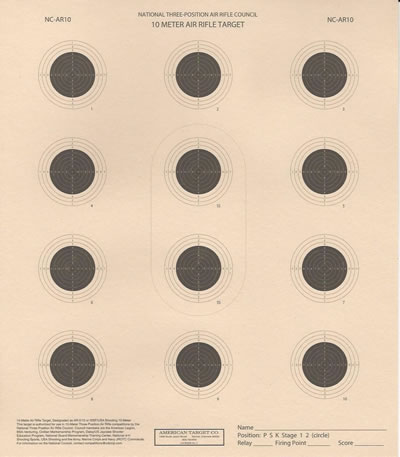 Example of a target to be used in the program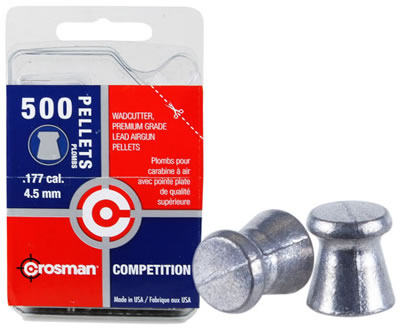 Pellets that will be used in the program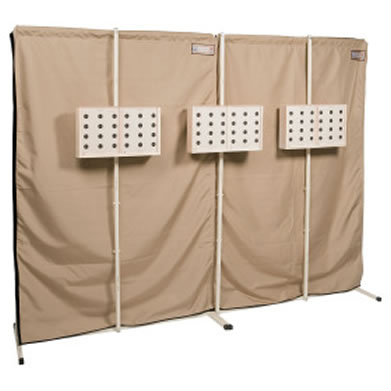 Range with pellet traps and pellet backstop